Copyright © 1999-2017
Forkmedia LLC
---

Mother's Day Candlelight Dinner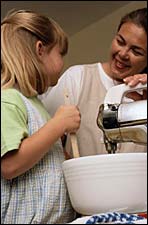 She may be your Mom, but she probably still has a romantic streak in her, cleverly disguised beneath diapers and dishwater since the day you were born. Pamper her with this elegant, but easy, meal, a little of her favorite music, dim lights, and tall candles on the table. Or, if she prefers, serve this as an elegant lunch or brunch, with fresh flowers to accent and brighten the table.
Kids, ask Dad or another adult for permission to use the kitchen and for their supervision while you cook. Because this meal can be made mostly in advance, Dad and the kids can entertain Mom with a few spins on the dance floor before serving, and everyone - from the littlest to the biggest family member - can pitch in to show Mom just how special she is!
Mother's Day Menu
Make Mom a special meal using the following recipes:
Cooking Countdown
Except for the couscous, which takes only ten minutes to make, this elegant meal can be prepared early in the day, or as much as a day in advance - even by kitchen novices. On Mother's Day, allow 30 minutes for finishing up the preparation and serving the meal. She'll be so impressed!
The day before (or 2 to 3 hours before serving):
On Mother's Day
With most of the foods cooked in advance, you only need to do these few tasks before announcing your Mother's Day meal:
Set the table. See Chapter 15 for tips on table settings.

Start preparing the couscous about 30 minutes before serving.

Bring the foods out of the refrigerator to come to room temperature about 20 minutes before serving.

To serve the meal:
Start with the Shrimp Cocktail as the appetizer. Set the small bowls of shrimp cocktail on saucers. If you have small forks, set those out, too. After the appetizer has been eaten, remove the bowls and saucers.

For the main course, serve the Salmon and Asparagus with the Grainy Mustard Sauce on the side. Serve the couscous as a side dish. For a special touch, garnish the salmon with fresh chopped parsley and lemon wedges, and sprinkle finely chopped green onions over the couscous.

After the main course is over, remove the plates and serve the Tropical Berry Ambrosia in small plates or bowls. Your Mother's Day menu is now complete!
Copyright © 1999, Kate Heyhoe. All rights reserved.