---
---

The Vegetable Dishes
I Can't Live Without
By Mollie Katzen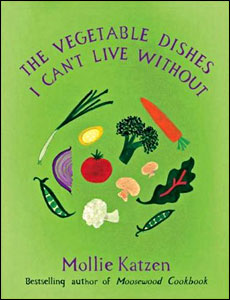 What does the world's foremost vegetarian chef like to eat? Find out in Mollie Katzen's new cookbook, The Vegetable Dishes I Can't Live Without.
Sometimes we need a little inspiration when it comes to adding more vegetables to our plate. Thankfully for us, Mollie Katzen knows a thing or two about vegetables! On the 30th anniversary of her groundbreaking Moosewood Cookbook, Mollis presents just under 100 delicious vegetable side dishes in this delightful and beautiful cookbook. Whether you need an appetizer, a quick and easy snack for the kids, or something to accompany a main dish, this cookbook offers creative recipes and countless ways to infuse more vegetables into our diets.
Both vegetarians and meat-eaters alike can benefit from these tasty and healthy side dishes, many of which you can even serve as stand-alone meals. The Vegetable Dishes I Can't Live Without is an assortment of mostly new recipes, with new twists on some old favorites. Presented in her signature style and with her classic hand-drawn illustrations, these are the recipes she loves the most, and the recipes her millions of fans will most cherish.
"Molly's well-loved personal favorites offer a sound place for new vegatable cooks to begin enjoying the myriad delights that produce promises. And she's right -- the willingness to focus on even a few details is the key to making food that will sparkle, shine, and delight those who partake."
—Deborah Madison, author of Vegetarian Cooking for Everyone
Mollie Katzen is best known as the author and illustrator of the groundbreaking classic, Moosewood Cookbook, which was named to the James Beard Foundation's Cookbook Hall of Fame in 2007. She is widely credited with bringing vegetarian cooking into the mainstream. Her other popular books include Mollie Katzen's Sunlight Cafe, Mollie Katzen's Vegetable Heaven, and Eat, Drink, and Weigh Less. She lives in Berkeley, California.
Buy The Vegetable Dishes I Can't Live Without
The Vegetable Dishes I Can't Live Without
Written & illustrated by Mollie Katzen
Hyperion Books 2007
Hardback, 160 pages, $22.95
ISBN-13: 978-1401322328
ISBN: 1401322328
Information provided by the publisher.
The Vegetable Dishes I Can't Live Without
Visit Mollie Katzen at her Web site at http://www.molliekatzen.com
Back to the main Kids' Cookbooks page.
This page created November 2007