---
---
Surf's Up Seafood Salad
A Cooking with Kids Original Recipe

Prep time: 25 minutes, including making the dressing
Chill time: 7 minutes
Yield: 6 servings as side dish, 4 servings as main course salad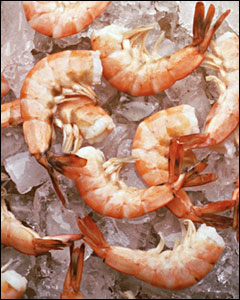 Frozen shrimp and peas retain their flavor and texture in salads better than most foods and make great time-savers—keep them on hand for emergency meals. Young children enjoy the seashells of this mildly-sweet, but sophisticated, pasta salad, which uses the Cool-as-a-Cucumber Dressing found in Chapter 20. Older kids can easily make this salad and dressing on their own with a parent's supervision.
Do this first:
Peel and cook 3/4 pound shrimp or use pre-peeled, cooked shrimp (defrost in the microwave, if frozen).
Defrost 1/2 cup frozen peas in a microwave until just thawed.
Ingredients and Steps
1/2 pound seashell pasta or similar pasta of choice
2 teaspoons salt
3/4 pound peeled, cooked shrimp
1/2 cup frozen peas, cooked and cooled
Bring a large pot of water (about 4 quarts) to a boil. Add the salt.
When the water returns to a full boil, stir in the pasta. Boil until pasta is al dente, or tender but with a slight resistance when bitten, about 8 minutes.
While the water starts to boil and as the pasta cooks, make the Cool-as-a-Cucumber Dressing.
When the pasta is cooked, drain it in a colander in the sink. Don't rinse.
Toss the still-warm pasta with 1 cup of dressing, reserving the rest for another use (such as Grilled Velvet Chicken in Chapter 18). Stir in the shrimp and peas.
Refrigerate 2 hours or until well chilled. If the pasta seems dry, stir in some of the reserved dressing and adjust the seasonings as needed. To refresh the flavors, add a splash of rice vinegar just before serving. Serve chilled.
Vary It! Add cooked crab meat to the salad. Increase the vegetables by adding more peas or chopped bell pepper, carrot, celery, or radishes. If you have extra cucumber, dice it for garnish.

Piercing the chicken pieces before marinating, a technique practiced in India, allows the dressing to penetrate better. Don't pierce the meat after it begins to cook though, or the juices run out and the meat becomes dry.
Recipe © 1999, 2007 by Kate Heyhoe