---
---

Welcome to the
Peppered Leopard's Kitchen!
Hello, hello, hello! Come into my kitchen, I'm the Peppered Leopard. Would you like to cook with me? There are lots of fun meals we can make together, so come back often to try different recipes.
There is one thing that I'll request from you. You'll need to have your Mom or Dad join you in the kitchen when you're ready to cook. Learning to cook is fun but you have to be safe about it. You'll want them along until they say you've graduated. So always bring them with you whenever you plan to cook.
Are you ready? Then what are we doing standing around! Time to click and cook and have some fun too! Let's go!
—The Peppered Leopard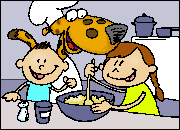 The Peppered Leopard is Copyright © 1995-2006 Jim Keeshen Productions, Inc. All Rights Reserved.


Praise for the Original
Cooking with Kids book
General Mills Groceries
Save up to 30% on select General Mills breakfast, baking, snacks and boxed meals brands such as Chex, Cheerios, Nature Valley, Betty Crocker, Fruit Roll-ups, Hamburger helper and more.
Popchips
Save up to 30% on select Popchips.
Annie's Homegrown
Save up to 30% on select Annie's Homegrown boxed meals, snacks, cereals and dressings.
Nong Shim Noodles
Save up to 30% on select Nong Shim noodles and snacks.
Organic Valley Milk
Save up to 30% on select Organic Valley organic milk.