---
---
Irma's Spiced Nuts-to-You!
A Cooking with Kids Original Recipe

Preparation time: 5 minutes
Cooking time: 45 minutes, plus one day to season
Yield: 4 cups pecans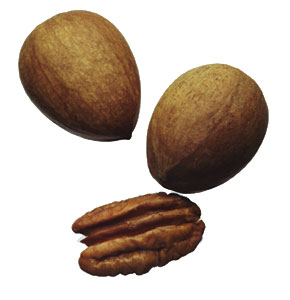 Irma Way, my mother-in-law, shares her recipe for these addictive pecans. Kids can wrap up these delicacies in fanciful containers, air-tight tins, and colorful plastic wrap before giving them to a favorite parent, teacher, uncle, or aunt. Don't forget to include a ribbon, bow, and personal, hand-written greeting. Or, keep them around in a resealable bag for handy snacking and for sprinkling on salads.
Ingredients and steps
1 egg white
1/2 cup sugar
1 teaspoon cinnamon
1/2 teaspoon salt
1 pound shelled pecan halves (about 4 cups)
1. Heat oven to 225 degrees F. Line a baking sheet with foil for easy clean-up.
2. Using an electric beater or wire whisk, beat the egg white until it forms a stiff peak when the beater or whisk is lifted up through it.
3. Lightly beat in sugar, cinnamon, and salt until just mixed.
4. Stir in pecans to coat
5. Spread pecans in single layer on baking sheet.
6. Bake until pecans are dry to the touch, about 45 minutes. (It's okay if some pecans stick together.) Let the pecans dry on a baking sheet at room temperature for one day.
7. Store in an air-tight container; pecans will keep 3 to 4 weeks.

Cooking with Kids Tip
Except for using the oven, most kids can proudly prepare these nuts by themselves. Depending on their age, younger kids may need help with beating the egg white.
Recipe © 1999 by Kate Heyhoe


Praise for the Original
Cooking with Kids book
General Mills Groceries
Save up to 30% on select General Mills breakfast, baking, snacks and boxed meals brands such as Chex, Cheerios, Nature Valley, Betty Crocker, Fruit Roll-ups, Hamburger helper and more.
Popchips
Save up to 30% on select Popchips.
Annie's Homegrown
Save up to 30% on select Annie's Homegrown boxed meals, snacks, cereals and dressings.
Nong Shim Noodles
Save up to 30% on select Nong Shim noodles and snacks.
Organic Valley Milk
Save up to 30% on select Organic Valley organic milk.