---
---

Nook Hook Cook Book Dogs
We took a look.
We saw a Nook.
On his head he had a hook.
On his hook he had a book.
On his book was "How to Cook."
From One Fish Two Fish Red Fish Blue Fish
Makes 4 to 6 servings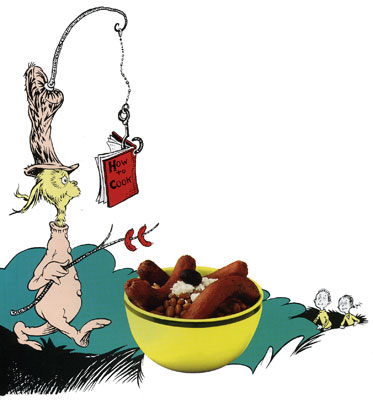 Make like a Nook, and put your dogs on sticks, not hooks, to roast them. Pick oak or pecan or hickory or pine sticks—just soak them in water first. If you don't pick sticks, pick long-handled barbecue forks instead.
Ingredients
8 beef or turkey frankfurters
8 oak, pecan, hickory, or pine sticks, about 3 feet long,
soaked in water (long-handled barbecue forks may be substituted)
1 large can (1 pound, 12 ounces) Boston baked beans
2 ounces ricotta cheese
4 black olives, pitted
Directions
1. Place each frankfurter on a stick or barbecue fork.
2. Prepare a wood or charcoal fire in a fire pit or barbecue, or heat a gas grill. Hold the frankfurters over the heat, being careful not to get too close. Cook, turning, until the skin bubbles and browns, about 5 to 7 minutes.
3. Push the frankfurters off the sticks or forks with a small fork. Set aside.
4. Put the beans in a saucepan and cook them over medium heat, stirring, until warm all the way through, about 7 minutes.
5. Divide the beans among four bowls, add two roasted frankfurters to each bowl, and top with a spoonful of the ricotta and an olive.
Green Eggs and Ham Cookbook
by Georgeanne Brennan
Illustrated by Dr. Seuss
Random House Books for Young Readers
Hardcover; $16.95; Ages 8-10
ISBN: 0-679-88440-8
Information provided by the publisher.
Green Eggs and Ham Cookbook
Back to the main Kids' Cookbooks page.
This page created November 2006