---
---

Paul Newman and A.E. Hotchner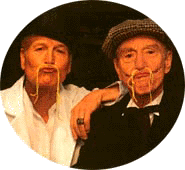 Paul Newman is probably best known for his spectacularly successful food conglomerate. In addition to giving the profits to charity, he also ran Frank Sinatra out of the spaghetti sauce business. On the downside, the spaghetti sauce is outgrossing his films.
He did graduate from Kenyon College magna cum laude and in the process begat a laundry business which was the only student run enterprise on Main Street. Yale University later awarded him an honorary doctorate of Humane Letters for unknown reasons.
He has won four Sports Car Club of America National Championships and is listed in the Guiness Book of World Records as the oldest driver (70) to win a professionally sanctioned race (24 hour of Daytona, 1995).
He is married to the best actress on the planet, was number 19 on Nixon's enemy list, and purely by accident, has done 51 films and four Broadway plays.
A.E. Hotchner has written twelve books and six plays, and in one way or another food has found its way into all of them. In Papa Hemingway, which was published in twenty-six languages in thirty-eight countries, there are vivid descriptions of memorable meals with Hemingway and dishes that Hemingway particularly liked.
Hotch has graphically described meals in some of his novels, most recently in Louisiana Purchase. His dishes in this book demonstrate how far up the gourmet ladder he has climbed.
List of starring contributors (in order of appearance)
Harry Belafonte
Candice Bergen
Michael Bolton
Rosemary Clooney
Glenn Close
Cy Coleman
Judy Collins
Whoopi Goldberg
Carole King
Angelica Huston
Bill Irwin
Nathan Lane
David Letterman
James Naughton
Sarah Jessica Parker
Tony Randall
Joan Rivers
Ann Reinking
Tim Robbins
Julia Roberts
Phoebe Snow
Jerry Stiller
The Hole In The Wall Gang Cookbook
By Paul Newman and A.E. Hotchner
A Fireside Original
Publication date: November 1998
Hardback, 112 pages, Price: $12.00
ISBN: 0-684-84843-0
Information provided by the publisher.
The Hole In The Wall Gang Cookbook
Back to the main Kids' Cookbooks page.
This page created November 1999