---
---

Lemonade Chicken Wings
Makes 20-24 pieces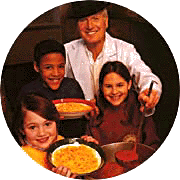 Lemonade provides the zing in the sauce for these chicken wings. Serve them warm with rice as a meal, or at room temperature as a snack.
2 tablespoons olive oil
2 tablespoons butter
2 shallots or 1/2 medium onion,
finely chopped (2 tablespoons)
2 teaspoons dried rosemary
1/2 cup Newman's Own Old Fashioned
Roadside Virgin Lemonade
or your favorite
1 teaspoon black pepper
1 teaspoon salt
10 to 12 chicken wings

1. Preheat the oven to 425 degrees F.
2. To make the sauce: In a small saucepan, heat the oil and butter over medium heat until the butter is melted. Add the shallots and rosemary, and cook for 2-3 minutes.
3. Add the lemonade, pepper, and salt. Simmer over low heat for 6-8 minutes, until slightly reduced and syrupy. Set aside to cool.
4. To cook the chicken: Cut each chicken wing into 3 parts. Cut the wings apart at the joints with heavy-duty kitchen scissors or use a sharp knife with a stiff blade, inserting the blade between the bones to cut the joint apart. Throw away the wing tips, which don't have much meat on them.
5. Place the wing pieces in a shallow ovenproof pan or dish and coat well with the sauce.
6. Bake until the skin is golden brown, about 30 minutes.
from:
The Hole In The Wall Gang Cookbook
By Paul Newman and A.E. Hotchner
A Fireside Original
Publication date: November 1998
Hardback, 112 pages, Price: $12.00
ISBN: 0-684-84843-0
Recipe reprinted by permission.
The Hole In The Wall Gang Cookbook
Back to the main Kids' Cookbooks page.
This page created November 1999