---
---

The Hole In The Wall
Gang Cookbook
Kid Friendly Recipes for
Families to Make Together
By Paul Newman and A.E. Hotchner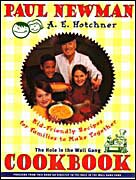 Fifteen years ago, Paul Newman and A.E. Hotchner started a little salad dressing company. That little salad dressing company became Newman's Own, Inc., a worldwide conglomerate that has since earned over $100 million in after-tax profits. And what did Newman and Hotchner do with all that money? Gave it away, of course.
In 1987, Paul Newman was inspired to use some of the profits from Newman's Own, Inc. to establish a camp for children suffering from cancer, leukemia, and other serious blood diseases. The first Hole in the Wall Gang Camp sprang to life in the Connecticut woods. Sister camps in Florida, New York, Illinois, Ireland, and France followed.
The Hole In The Wall Gang Cookbook by Paul Newman and A.E. Hotchner is dedicated to the 7,000 children who attend these camps each year, a cookbook designed for families to have fun together among the pots and pans. All of the recipes come from Paul Newman, his family and friends, as well as winners of the Newman's Own-Good Housekeeping recipe contest which awards cash prizes to the winners' charity of choice. All the proceeds from this book will go directly to the Hole in the Wall Gang Fund.
The Hole In The Wall Gang Cookbook has simple, kid-pleasing recipes sure to delight even the pickiest eaters. From soups and chilis, sandwiches, and pizzas to main courses, vegetables, sides, snacks, and desserts, recipes stress nutrition, flavor and ease of preparation. Recipes from friends include Harry Belafonte's Sloppy Joe Shortcakes, an enduring American kid classic that Harry modifies with ground turkey or chicken sauce served atop a hot, buttered biscuit. Julia Roberts shares her Baked Potato Soup and Tim Robbins dishes up his Crunchy Oven Fried Snapper Fillets -- firm, white fish rolled in crushed cornflakes and baked. Serve with Angelica Huston's Bandito Broccoli or Carole King's Green Beans with Honey Mustard and Almonds. End sweetly with Phoebe Snow's Mashed Maple Syrup Apples or Michael Bolton's White Chocolate Brownie Hot Fudge Sundae.
Award-winning recipes from the Newman's Own-Good Housekeeping Contest include Super Second Grade Popcorn and Peanuts -- invented by a second grade class from Annunciation School in Havelock, North Carolina; The Lord's Dish...Or Somebody Up There Likes Me Pizza from students at the Mount St. Vincent Home for Children in Denver. The Hole In The Wall Gang Cookbook also has sections on food safety tips, how to spice up vegetables for kid-consumption, and special lunch box suggestions.
The Hole In The Wall Gang Cookbook is more than a culinary collection. Interspersed throughout the book are poems and letters from Hole in the Wall Gang campers that will bring perspective to kids with good health, and bring hope to those who do not. As Katie, a camper, says, "I think that hope and love and laughing and confidence are all over the camp; in a way they're growing as much as the grass is." Every child, and adult, will be infected by the spirit of hope, love, and courage as they explore the inspirational, mouth-watering pages of the new The Hole In The Wall Gang Cookbook.
The Hole In The Wall Gang Cookbook
By Paul Newman and A.E. Hotchner
A Fireside Original
Publication date: November 1998
Hardback, 112 pages, Price: $12.00
ISBN: 0-684-84843-0
Information provided by the publisher.
The Hole In The Wall Gang Cookbook
Back to the main Kids' Cookbooks page.
This page created November 1999